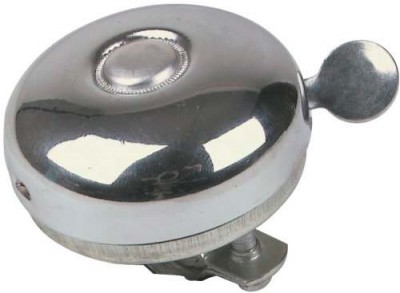 Bells are important parts of bicycles.  Some may call them "accessories," but I think they are more like "parts," because no bike should be without one.
When shopping for a bell, try out several until you find one that sounds good.  A good sounding bell is both pretty loud and pretty to hear.  You don't want a bell that sounds angry. A bell should be a reminder to those annoying cars and pedestrians that they, too, should come over to our side and ride bikes around.  They should bring to mind a pleasant ride.  You will also benefit from a bell with a pleasing tone.
A bell is important because you often need to let someone know you're there.  I know I get annoyed when a cyclist announces "ON YOUR LEFT" and would prefer it if they just rang a little bell.  (Although last year I had a funny experience when someone yelled "ON YOUR RIGHT!"  and I yelled "NO, THAT'S MY LEFT!")
A bell is a good way to say hello to another cyclist who may be on the other side of the street.  Or you can ring as you ride past your favorite bike shop.  Or if someone is holding a sign that says HONK IF YOU LOVE DAVID BOWIE, you can ring your bell, which is better than honking and less annoying to people who are trying to sleep near this sign-holder.
Anyway, as spring approaches (is it here yet?), think about adding a bell to your bicycle.